Hurricane Dorian descends on US
7 min ago
More than 148,000 Floridians must evacuate St. Johns County
There are roughly 148,500 residents in St. Johns County, Florida, under mandatory evacuation order starting Monday at 8 a.m. ET.
St. Johns County has issued mandatory evacuation orders for people in Zones A and B. These zones include the entire City of St. Augustine, St. Augustine Beach and those living on waterfront properties or flood-prone areas. A mandatory evacuation order has also been issued for people in Hastings and Flagler Estates.
St. Johns County Sheriff David Shoar expects the bridges near the evacuation zones to remain open to traffic until late Tuesday. The bridges may close at that time, Shoar said.
"This is a storm of storms," Shoar said during a news conference Sunday.
27 min ago
Cajun Navy in Florida to provide hurricane support
Todd Terrell, founder of United Cajun Navy, has 50 people stationed in Jacksonville, Florida, to bring in supplies as Hurricane Dorian draws near.
Terrell has partnered with a US Veterans Corps team out of North Carolina, who will be bringing high-water vehicles.
Another team is preparing in Kissimmee and St. Cloud to handle animal rescue.
The Cajun Navy is a grassroots citizens' organization that came together in the aftermath of another hurricane in a different state more than a decade ago.
In the devastation and deep water left by Hurricane Katrina, Louisianans took to their boats to help each other, and the Cajun Navy was born.
The Cajun Navy has since assisted in recovery efforts following numerous natural disasters, including Hurricane Harvey in 2017.
48 min ago
Trump doesn't think he's 'ever even heard of a Category 5' hurricane
President Donald Trump said Sunday that he's "not sure that (he's) ever even heard of a Category 5" hurricane, despite several such storms having threatened the US since he took office.
"We don't even know what's coming at us. All we know is it's possibly the biggest. I have — I'm not sure that I've ever even heard of a Category 5. I knew it existed. And I've seen some Category 4's — you don't even see them that much," Trump said at a briefing with officials at FEMA's headquarters in Washington, DC.
"But a Category 5 is something that — I don't know that I've ever even heard the term other than I know it's there. That's the ultimate, and that's what we have unfortunately," he added, in reference to Hurricane Dorian.
The comments from the President came just before Dorian, a dangerous Category 5 storm, made landfall on the Abaco Islands in the Bahamas. The storm is the most recent of four Category 5 hurricanes to threaten the US since Trump assumed the Oval Office.
In September 2017, nearly eight months into Trump's presidency, Hurricane Irma, one of the strongest Atlantic basin hurricanes ever recorded outside the Gulf of Mexico and the Caribbean Sea, impacted at least nine US states. That same month, Hurricane Maria devastated the US territory of Puerto Rico, leaving behind an island that is still struggling to recover.
Last October, Hurricane Michael, which was originally designated as a Category 4, barreled into the Florida Panhandle as the third Category 5 hurricane to blast the US since Trump took office.
Trump has pledged to provide federal assistance to state and local officials to deal with Hurricane Dorian.
It's not the first time Trump said he's never heard of a Category 5
Trump has previously indicated that Category 5 hurricanes are unprecedented weather events that either he or others had never heard of or witnessed.
In the days between the landfalls of Hurricane Irma and Maria, he said he "never even knew" they existed and said days later that "people (in Puerto Rico) had never seen anything like" the storm.
In October 2017, Trump claimed "nobody has ever heard of a (Category) 5 hitting land," and earlier this year, he again said he had never heard of a hurricane of that intensity.
While the US has seen a number of Category 5 storms in recent years — including Hurricane Katrina in 2005 — scientists estimate that Atlantic hurricanes could become more common. And while researchers can't definitively say the climate crisis is leading to more intense hurricanes, scientists have found that rising sea levels due to global warming can further exacerbate the impact of Atlantic hurricanes.
1 hr 5 min ago
Video captures Dorian's destructive wind and rain in Bahamas
Chef Jose Andres posted this video from Nassau showing the strength of Hurricane Dorian's wind and rain. It was posted around 1:40 p.m. ET.
"We are safe south of #HurricaneDorian but this storm is massive!! We are preparing our response to provide meals after Dorian passes. We also have teams in Florida ready to go if it doesn't turn North," Andres wrote on Instagram.
1 hr 14 min ago
National Hurricane Center: 'Life threatening situation' in the Abaco Islands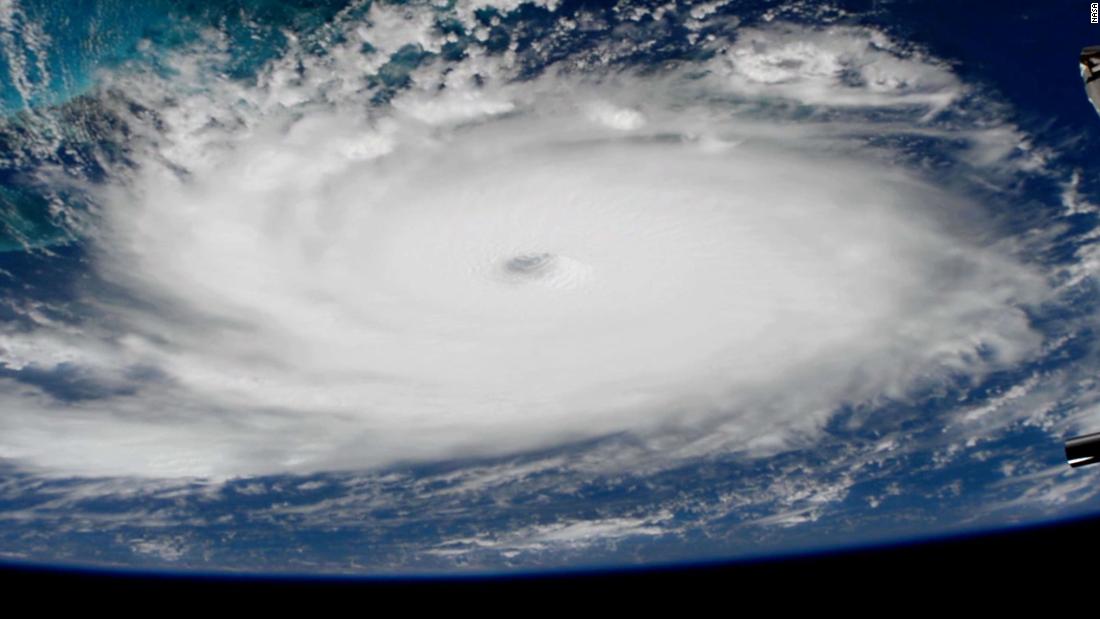 Wind gusts have reached over 220 mph on the Abaco Islands in the Bahamas, according to an update from the National Hurricane Center.
A storm surge of 18 to 23 feet above normal tide levels with destructive waves has also been reported, according to the center.
"This is a life-threatening situation. Residents in the Abacos should stay in their shelter. Do not venture into the eye if it passes over your location," the National Hurricane Center said.
This situation is expected to continue on the Abaco Islands for several hours, according to the center.
The Abaco Islands are in the northern Bahamas, east of southern Florida.
1 hr 33 min ago
West Palm mayor urges community to shelter in place
West Palm Mayor Keith James has asked the community to shelter in place until Hurricane Dorian has passed and emergency officials have given the all clear.
The city has yet to enact a curfew, James said.
"Even the slightest deviation from Dorian's projected path could be catastrophic event for our community," James said at a press conference on Sunday afternoon. "Tonight at 8 p.m. ET the city's emergency operation center will be operational at activation level one, the highest level of emergency activation."
James reminded everyone of the mandatory evacuations for residential structures in Zone A and Zone B in Palm Beach County, effective at 1 p.m. ET today. He also pointed out that Zone A includes mobile parks.