MAIARA WALSH: BRIGHT YOUNG THING
Maiara Walsh is not a typical Hollywood starlet or burgeoning "It" girl. Sure, she has the acting chops and leading-lady good looks, but she is also well-spoken, intelligent and pensive. Unlike most young actresses, she can't even name her favourite fashion designer, which is refreshing considering all the celebrities with their names sewn on clothing labels these days.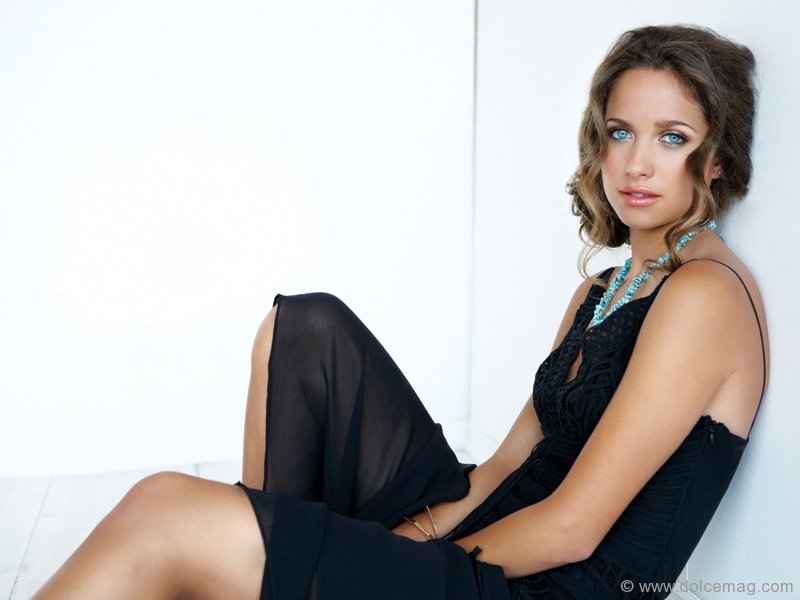 Having portrayed Meena Paroom on the children's television show Cory in the House, Walsh is emerging from a Disney discipline more like Hilary Duff than Lindsay Lohan. "I really am not into the club scene. I would rather just hang out with a group of friends who know me and just be complete goofballs," explains Walsh. "That's more fun to me than trying to look super-hot and going to the coolest clubs."
Born to an American father and Brazilian mother, 21-year-old Walsh was born in Seattle, and spent some of her formative years residing in Brazil. "It's funny because America's my home, but once I step off the airplane in Brazil I have that feeling of 'oh, I'm home now!'" When the Walsh family relocated from Seattle to California, Walsh enrolled in acting classes and scored an agent. "My parents weren't ecstatic about me pursuing the career of an actress. Both of my parents are very much into education – both have a master's degree – and they were worried that I would just throw that off to the side. But once they realized how passionate I was about it and once I actually started booking roles, they've been supportive ever since." Shortly after moving to California, Walsh landed roles on the popular Nikelodeon television series Unfabulous and in the film Lullabye Before I Wake. At 18, she was cast in Cory in the House, a gig that she says taught her a lot about the industry. "I think I learned comedic timing, what it's like to work with a large group of people and creating that family atmosphere," muses Walsh.
Already a celebrity amongst tweens, parents are now becoming familiar with Walsh, courtesy of her role as Ana Solis, the rebellious and scheming niece of Eva Longoria's character, Gaby, on Desperate Housewives. Walsh's role as an angst-ridden teen is quite different from her mellow and composed real-life persona. "I love playing characters that are so different from me because that's part of acting," says Walsh. "She [Ana] would be the last person I'd want to be friends with. She'd probably be someone that I'd want to get through to and talk to about her issues." On set, Walsh and Longoria discuss literature. "It's kind of a little nerdy thing that Eva and I do. We'll read in-between takes and then we'll tell each other about what we've read. We get so excited and so into it!"
When not immersed in a script or filming scenes, the young actor works on her emerging music career. "I'm still finding my sound right now. But I don't want my music to be just one thing, I want it to kind of bridge different areas of music," she explains. "I'm slowly learning how to play the piano, but I'm pretty terrible. It is only because I don't practise enough," she admits.
Walsh has also used her voice for good, dedicating her time to charities and causes she believes in. This past March she co-hosted Girl Prep, a youth conference sponsored by the In a Perfect World foundation and founded by the Young Women's Empowerment Network. Workshops targeting self-esteem, leadership and youth activism were set up and 250 girls between the ages of 10 and 13 participated in the event. As a young woman working in image-driven Hollywood, Walsh identified with the girls. "I think self-esteem is important for everyone," she says. "But I feel like the youth is so influenced right now by the media and the culture around them that they kind of forget what I think is important, which is valuing yourself and not needing to fit into this one image that most people can't fit. They shouldn't have to."
Walsh endearingly labels herself a dork, a claim that is difficult to believe considering her charmed lifestyle. "I love learning. I love science. I can talk about biology or the brain for like hours and just be happy!" With a starring role in The Prankster, a coming-of-age teen comedy that will soon be released, this self-proclaimed nerd certainly has a big career ahead of her. "This is a career that I want to pursue for the rest of my life. I also want to go to college and get a degree in psychology. But I think that's something I can do while still pursuing acting." www.maiara-walsh.com