With its new location on Bay Street, Hy's continues its 50-year Toronto tradition as the classic Canadian steakhouse.
According to the City of Toronto, there are approximately 7,500 restaurants, bars and lounges in North America's fourth-largest metropolitan area, but very few entities have lasted 50 years. Even fewer can claim the moniker "institution," like Hy's Steakhouse and Cocktail Bar, which recently reopened at its newest location at the corner of Bay Street and Richmond Street West in the heart of the city's financial district.
"I am comfortable with that 'institution' word," says Neil Aisenstat, son of Hy's founder, Hy Aisenstat. "It means we've been around a long time and we've stayed relevant as a standard-bearer of the steakhouse category. It also means we are trusted and respected, so I find that somewhat flattering."
The Hy's story began in 1955, when Neil's father opened the first Hy's Steakhouse over a clothing store in Calgary. He then moved to Toronto and opened on Richmond Street West, from 1970 to 1998. Hy's on Adelaide Street followed, from 1999 until December 2018, setting the stage for the opening of its new location at 365 Bay St., just blocks away from where it all began in Toronto, one of five locations it now has in Canada.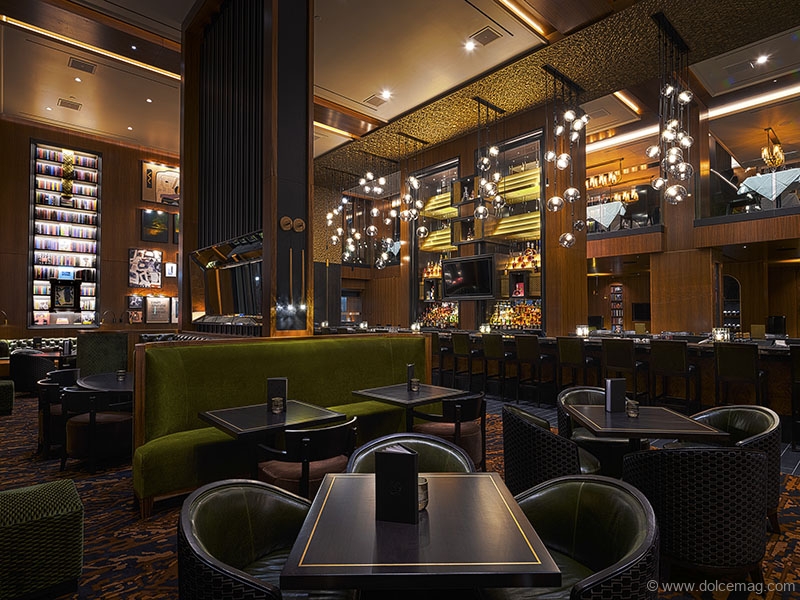 "When my father was younger, he travelled quite a bit to big American cities and, being somewhat of a raconteur who liked to tell stories, he enjoyed bars and restaurants," says Neil of his father's vision. "Outside of the big train hotels, there was nothing like a stand-alone high-end restaurant in Calgary or most Canadian cities. Toronto was a market he also thought we'd do well in, as there were not too many restaurants in the financial core when we opened here."
In its early days, Hy's Steakhouse was quite reflective of its time — a male-dominated environment straight out of TV's Mad Men, an enclave of ashtrays, leather banquettes, martinis and lengthy steak lunches, where vegetables were most definitely optional. It was a visual of jackets and ties, with crisp linens and even crisper white shirts, echoing with the sounds of swirling ice cubes in bold cocktails and the laughter at even bolder stories. Even its name today as a "Steakhouse and Cocktail Bar" hearkens back to that era.
But in keeping with its leadership role at the top of the Canadian restaurant food chain, Hy's has never stopped evolving and is acutely aware of today's tastes, trends and culinary temperature.
"People don't have time for a three-hour lunch anymore, and as our guests have evolved, so has Hy's," explains Neil. "Our menus are healthier and fresher, and people can be in and out, and back to work within an hour."
"PEOPLE DON'T HAVE TIME FOR A THREE-HOUR LUNCH ANYMORE, AND AS OUR GUESTS HAVE EVOLVED, SO HAS HY'S … PEOPLE CAN BE IN AND OUT, AND BACK TO WORK WITHIN AN HOUR"
Hy's impressive new 18,000-square-foot space is a clever design combination of sleek and contemporary paired with rich and deep textures, taking pieces from its history as a foundation for its promising future, as it continues its role as the classic Canadian steakhouse. Vancouver-based designer Elaine Thorsell has given each of its three levels a distinct experience.
The colours are a palette of deep greens and burnished golds, with leather and velvet materials and handcrafted Mozambique millwork with burled walnut details, accented by contemporary Canadian art, granite and metals.
The main floor is inviting, engaging and anchored by a 35-foot wraparound bar, giving way to groupings of cosy booths, cocktail tables, club chairs and ottomans, all to encourage casual drop-ins and vibrant, social, interactive energy. After all, conversation has always been at the core of any Hy's experience.
Upstairs is the white linen main dining room, bookended by elegant private spaces on one side and a whisky and champagne bar on the other, a homage to the restaurant's heritage. Dining tables are either overlooking the lounge action below, or secluded for more intimate dining. On the lowest level are two exclusively private rooms with full bars and technical capabilities, ready to host all types of business and social occasions.
"We love the Bay Street address. And with our 35-year lease we're making a major market investment in Toronto, and our new location gave us an opportunity to build something a little more special here," says Neil about the new flagship location. "We have a fresh new look with a contemporary design, but still have the opulence, so people recognize it as a Hy's."
Hy's signature is its premium Alberta Prime steaks, always dry-aged a minimum of 60 days and grilled to order, along with its variety of sides and starters, such as its famous caesar salad, always prepared table-side. The new location has brought new additions to the lunch, dinner and Happy Hour menus, which emphasize local produce.
"Our prime steaks come from High River, Alta., and only one per cent of all Canadian cattle is of that quality," says Neil proudly. "We also have plant-based options, fish, salads and an organic vegan bowl. Toronto diners travel broadly, and our scene has accommodated more sophisticated demands."
Proud of its history and excited for its future, Hy's combination of premium quality steaks and food, classic cocktails, its deep cellar, consistently attentive table-side service and a comfortable, social atmosphere will ensure it continues to thrive in its new location for another 50 years.
---