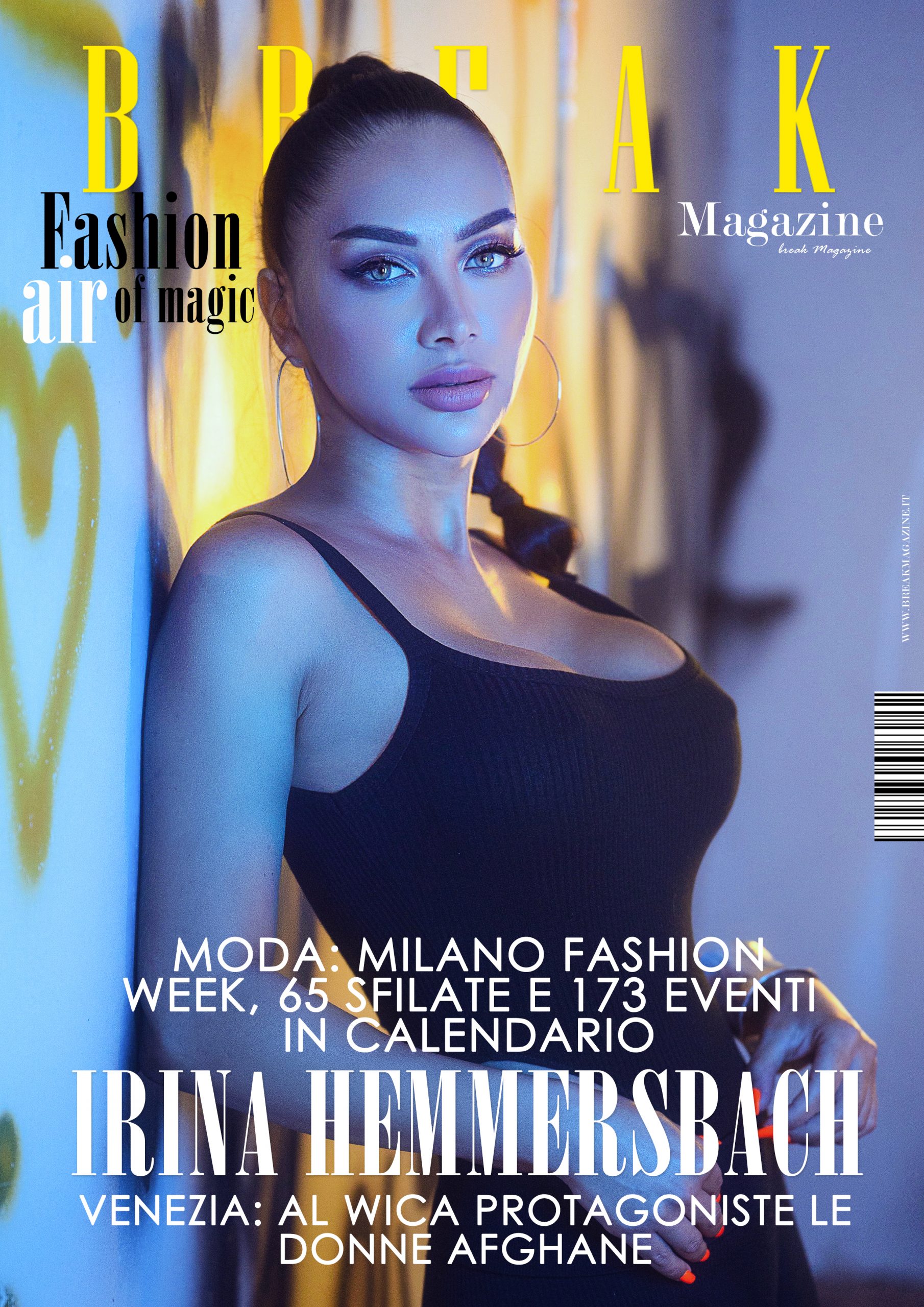 Меня зовут Ирина Хеммерсбах. Я- русская, родилась в городе Саратове. В Германии живу около 20 лет. На 2022 год имею грандиозные планы…выйти замуж, снятся у кино и родить ребёнка)) это шутка. Но а если серьёзно, то в этом году я впервые совместно с Thomas Wagner, записала свою первую песню, текст который был написан Евгением Юрашко. Это был для меня интересный опыт, в дальнейшем также планируется продолжать сотрудничество этим с музыкальным продюсер. Я очень рада оказать на обложке итальянского модного  журнала. Для меня это большая честь.  В апреле этого года мне уже  посчастливилось оказатьстся на обложки австралийского журнала autobabesmagazin. Я очень рада сотрудничеству с новыми изданиями. Благодаря поддержки одного из лучших фотографов и ретушиста из России Дмитрия Семёнова мои работы попадают на страницы многих популярных изданий и пользуются популярностью на страницах инстаграма и фэйсбука. На сегодняшний день моей основной деятельностью является сотрудничемтво и продвижение инстаграм аккаунтов. Очень хотелось бы попробовать себя в киномотографе. Сняться в кино в одной из ведущих или главных ролей, это для меня мечта. Я глубоко убеждена в том, что если иметь мечту то со временем она превращается в цель и если начать идти не изменно к своей цели, то однажды мечта воплотиться в этой реальности. Я желаю всем исполнения желаний и чистых прекрасных мечт.
🇺🇲 My name is Irina Hemmersbach. I am Russian, born in Saratov. I live in Germany for about 20 years. In 2022 I have grandiose plans… to get married, to make a movie and have a baby)) it's a joke. But seriously, this year I recorded my first song together with Thomas Wagner. The lyrics were written by Evgeny Yurashko. It was an interesting experience for me and there are plans to continue this collaboration with a music producer in the future. I am very happy to be on the cover of an Italian fashion magazine. It is a great honor for me.    In April this year I was already lucky enough to be on the cover of the Australian magazine autobabesmagazin. I am very happy to work with new publications. Thanks to the support of one of the best photographers and retouchers from Russia, Dmitry Semenov, my work has made it to the pages of many popular publications and is popular on Instagram and Facebook.
To date, my main activity is cooperation and promotion of Instagram accounts. I would love to try my hand at filmmaking. To make a film in one of the leading or main roles, it's a dream come true for me. I deeply believe that if you have a dream that over time it turns into a goal and if you start not to change your goal, then one day the dream will come true. I wish everyone the fulfilment of dreams and pure beautiful dreams.
🇮🇹  Irina Hemmersbach. Sono russo, nato a Saratov. Vivo in Germania da circa 20 anni. Nel 2022 ho piani grandiosi… sposarmi, fare un film e avere un bambino)) è uno scherzo. Ma seriamente, quest'anno ho registrato la mia prima canzone insieme a Thomas Wagner. Il testo è stato scritto da Evgeny Yurashko. È stata un'esperienza interessante per me e ci sono piani per continuare questa collaborazione con un produttore musicale in futuro.
Sono molto felice di essere sulla copertina di una rivista di moda italiana. È un grande onore per me.    Nell'aprile di quest'anno ho già avuto la fortuna di essere sulla copertina della rivista australiana autobabesmagazin. Sono molto felice di lavorare con nuove pubblicazioni. Grazie al supporto di uno dei migliori fotografi e ritoccatori russi, Dmitry Semenov, il mio lavoro è arrivato sulle pagine di molte pubblicazioni popolari, ed è popolare su Instagram e Facebook. Ad oggi, la mia attività principale è la cooperazione e la promozione di account Instagram. Mi piacerebbe provare a fare il regista. Fare un film in uno dei ruoli principali, è un sogno che si realizza per me. Credo profondamente che se hai un sogno che con il tempo si trasforma in un obiettivo e se inizi a non cambiare il tuo obiettivo, allora un giorno il sogno si realizzerà. Auguro a tutti la realizzazione di sogni e di sogni belli e puri.