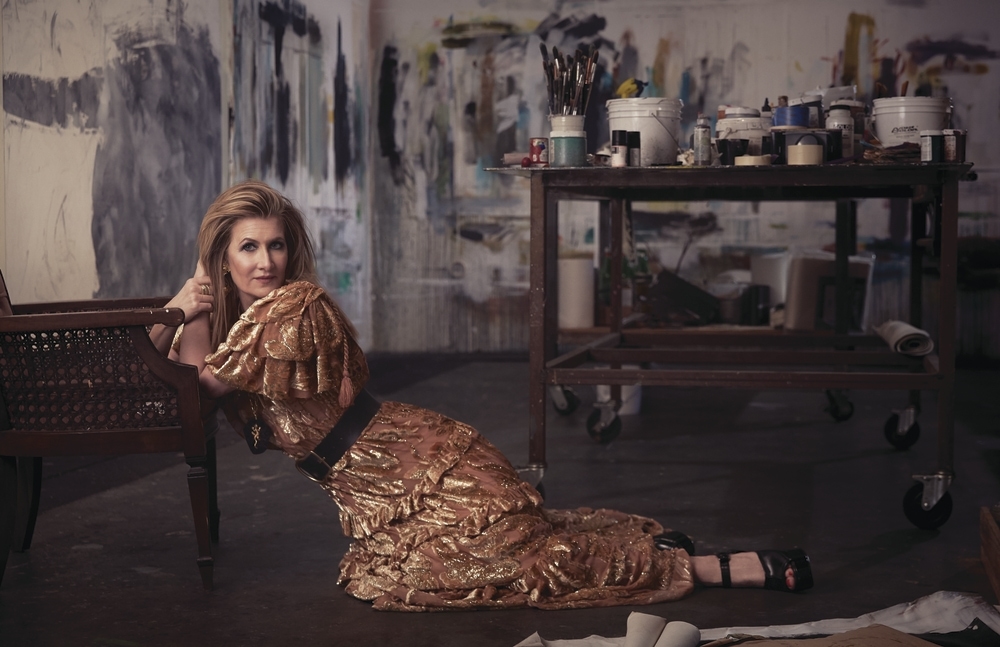 Laura Dern Tackles Big Lies And Little Women
I ANNE TUSCHMAN | AUGUST 26, 2019 | PEOPLE
Laura Dern gets candid about her long career, how she sidestepped typical child-actor blunders and the iconic part she's about to tackle.
Antonia gown, $1,295, by Ulla Johnson at Jenna White, South Miami; platform sandal, $995, at Givenchy, Aventura Mall and Design District; belt, stylist's own; Lizard stone necklace, $450, at Oscar de la Renta, Bal Harbour Shops; gold earrings and ring, both courtesy of Beladora.
I first met Laura Dern at the bat mitzvah of a mutual friend, where we were seated at the same table for lunch. If, let's say, I was the type of person who resided under a rock, I perhaps would not have even known she was famous. Sure, she's carved out one of the most long-lasting and multifaceted careers in Hollywood, and, yes, she's one of the stars of Big Little Lies—HBO's megahit based on the Liane Moriarty novel of the same name—but none of that was obvious in her demeanor. Truth be told, there were no telltale signs that she has been in countless movies and ascended the stairs on more than one awards stage. None of that was clear because Dern is all warmth and light, genuinely friendly and approachable. That incredibly expressive face that has allowed her to embody so many memorable characters smiles widely when she's sharing a story with you and clearly conveys she's intently listening when you're speaking. It's something of a unique experience with actors and actresses who have been working as long as she has. But, then again, the tale of Dern is remarkably original in Hollywood in many respects.
The daughter of actors Bruce Dern and Diane Ladd, she was raised in the rarified world of fame and access, finding her way in front of the camera as a young girl and then as a professional actress by the time she was a teen. She's won Golden Globes (four) and an Emmy, and has been nominated for an Oscar twice, and yet nowhere in her story is there a chapter about drug abuse or going off the rails—an all-too-frequent misstep by many child actors. "Maybe I was scared straight," says Dern of never veering into troubled territory. "Maybe when you are exposed to it at a young enough age, it's scary, as opposed to enticing. I honestly feel like it was luck. I got picked by the right people and found great friends. I really loved acting on an emotional level, and I felt like drugs and alcohol would get in my way if it became a deep path for me."
Instead of whispers of misbehavior or a fall from grace, the buzz about Dern has always been about her talent, her wide-ranging roles and her incomparable ability to make a character—no matter how complex or unusual—believable and even endearing. Take her role as Renata Klein inBig Little Lies. In its just-completed second season, Dern and her intense, overbearing and incredibly amusing-to-watch character shine even brighter—and more neurotically. "It is so fun," she says of playing Klein, a successful woman in tech who, this season, discovers her husband has misused and lost all their money, much of which she earned. "It is interesting because people think she is nuts. Is she nuts, or is she a woman?" Dern asks. "She has had to live in a man's world in Silicon Valley. She has had to do it all, and no women were her friends. She had one person who was her rock—her husband, who celebrated her and supported her, and now he is a son of a bitch, and that has to make her crazy. I think she has every right to be as explosive as she is."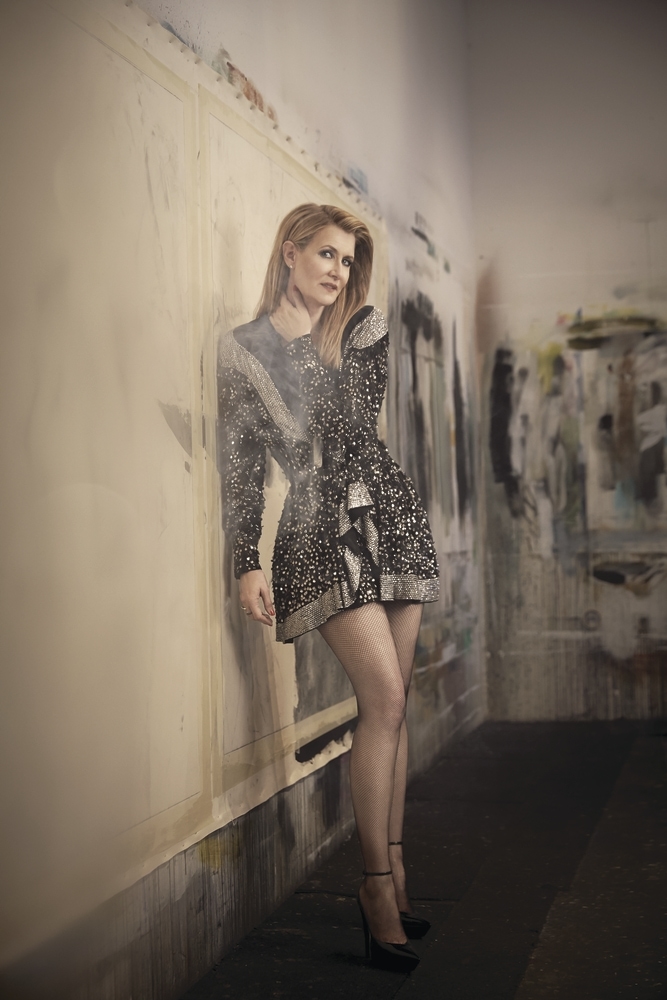 Caldes dress, $2,990, at Isabel Marant, Design District; tights, stylist's own; Betty 110 platform pumps, $845, by Saint Laurent by Anthony Vaccarello at Saint Laurent, Bal Harbour Shops and Design District; earrings, courtesy of Beladora; Voler crystal pouch, $1,875, at jacquieaiche.com; black diamond band, $595, by Eriness at At Ease on Sunset, South Miami; double cylinder ring, $295, at jenniferfisherjewelry.com.
That's the thing about Big Little Lies: More than a show about complicated marriages and friendships and even murder, it's about strong women. And perhaps that's why the show has captured the zeitgeist with such intensity. It might also be in part because of the true friendships formed on set. "We were just saying what a rare and amazing privilege to have a thing where you love each other so much; and you love the characters you are playing; and you love the story; and you get to explore deep, complicated and healing conversations for people—not just for women," says Dern of the chemistry she shares with co-stars Reese Witherspoon, Nicole Kidman, Shailene Woodley and Zoë Kravitz. "With all of the incredible storytelling there is on TV now, it's amazing we are able to strike a chord for people who feel like the story they are seeing is relatable and that they haven't seen it. That's what you dream of."
Dern's career, too, has been one of which many actors would dream. Some of her most iconic roles have been at the hands of David Lynch, including Blue Velvet, Wild at Heart, Inland Empireand the TV revival of Twin Peaks. There have also been blockbusters (Jurassic Park) and critic darlings (the movie Wild, for which she was nominated for an Oscar, and the TV showEnlightened, for which she won a Golden Globe). More than anything, there have been roles—many of them—rounding out an enviable and extensive career that seems to get better with time and age, rather than the opposite. "I have been lucky to participate in projects that are deeply complicated," she says. "Now we are seeing loud and clear that people want those characters. Either they long to see them because it is what they feel inside but never would be, or because they find them so relatable and need it spoken out loud."
Dern is now taking control and helping create some of those powerful roles for women—both in front of and behind the camera—with her production company, Jaywalker Pictures, which she formally started with partner Jayme Lemons in the last year. "We are growing quickly and finding things we really love," Dern says. "Everything is happening at once, and it's an exciting time." Among the projects in the works are three HBO series, including one co-produced and starring Issa Rae, called The Dolls, about the 1984 Cabbage Patch Kids riot in Arkansas; Kill Crazy, about a psychiatrist trying to determine if death-row inmates are sane enough to be killed, co-produced with documentary guru Alex Gibney; and a series produced with Amy Adams based on the Claire Lombardo book The Most Fun We Ever Had.
Still, even a woman as successful as Dern has days where "having it all" feels like an improbable concept. "On good days, I am kind enough to remember that there are growing pains, and it is all overwhelming and not easy or always fun," says the mother of son, Ellery, 17, and daughter, Jaya, 14, with ex-husband Ben Harper. "On the hard days, it's stressful and there is too much going on as a single parent—and it can be hard to carve out a minute for yourself. I have never had anybody else bully me in my single parenting life. I am lucky to have champions around me, but I can definitely do it to myself."
Floral fil coupé coat, $4,590, and bralette, $1,390, both at Oscar de la Renta, Bal Harbour Shops; belt, stylist's own; Tango necklace in rose gold with brown diamonds, $47,200, Tango ring in rose gold with brown diamonds, $23,900, and Victoria ring in rose gold, $6,900, all at Pomellato, Aventura Mall.
This Christmas, Dern tackles an iconic woman of a bygone century when she inhabits Marmee March, the character based on author Louisa May Alcott's Little Women. "My last fall and winter were spent doing [the movie], and it was incredible," says Dern of the coming-of-age classic, this time reimagined at the hands of writer-director Greta Gerwig. "It was so deeply female. We were playing such complicated women that when you reread the book, you feel it was written yesterday. It is complex and explorative of an independent voice and sexuality."
Little Women's themes may have been born in the 1800s, but they are indeed still relevant today. "The film itself and the sentiment behind it are in line with what we are talking about [today], so it was exciting," she says. "You can't believe it isn't a family in the 2000s." For Dern, investing in projects about women with women makes her already-rich career that much more enjoyable. "It is not just, 'Oh, we made a women's movie,'" she says. "They have made Little Women before. The conversation we were having around it felt revolutionary. We are having the same conversation women have been having forever." Taking it one step further from just making female-focused projects, Dern wants to be surrounded by women on set as well. "From Amy Pascal producing to [Gerwig] to a cast of predominantly women to a very truly representative crew, [Little Women] was an amazing thing to work on. When I was a kid, I think the only female on set was a script supervisor. Even my makeup and hair were done predominantly by men."
A few decades into her career, Dern feels she is indeed experiencing a sea change in the industry in which she has grown up. "We are 1 million percent doing it together," she says of the power of the recent women's movement in Hollywood. "Women in your position for the first 20 years of my career would ask me who I was dating. Imagine interviewing a 16-year-old girl, and you work at a magazine, and all you ask is who she's dating. Those were the women I was talking to. Their head of corporate or male editor was like, 'Find out who she's dating.' They were the women who got to be in the room, and they did what they needed to do. You're asking me what you want to know, and we're getting to have conversations we're excited to have, which is exciting because I've had very different ones for many years."
And because the quick-witted Dern has been an entertainer for so long, she knows how to close out a scene, adding with a laugh, "So, yeah, my feelings are hurt you didn't ask me who I was dating."
PHOTOGRAPHY COURTESY OF: JOHN RUSSO | CREATIVE DIRECTION BY JAMES AGUIAR | STYLED BY CRISTINA EHRLICH | HAIR BY CREIGHTON BOWMAN AT TMG-LA USING BUMBLE AND BUMBLE | MAKEUP BY STEPHEN SOLLITTO AT TMG-LA USING CHANTECAILLE