Gallic cooking techniques, both classic and modern, are alive and well at L'Atelier de Joël Robuchon and Le Jardinier in the Design District.
If you ask my computer's thesaurus, "mood" and "vibe" are synonymous. They both mean atmosphere, ambiance and the overall feeling you get from a place. But any restaurant designer, chef or experienced diner knows they're two completely different things.
The dining counter and open kitchen at L'Atelier de Joël Robuchon
Take L'Atelier de Joël Robuchon and Le Jardinier, which opened on Paradise Plaza (and on top of one another) in the Design District recently. The restaurants share many similarities, especially exacting quality and phenomenal service. But while L'Atelier, overseen by culinary director chef Christophe Bellanca and executive chef Gregory Pugin, is all big mood, Le Jardinier, created and overseen by Robuchon protégé chef Alain Verzeroli and chef de cuisine Seth Blumenthal, is vibe, vibe, vibe.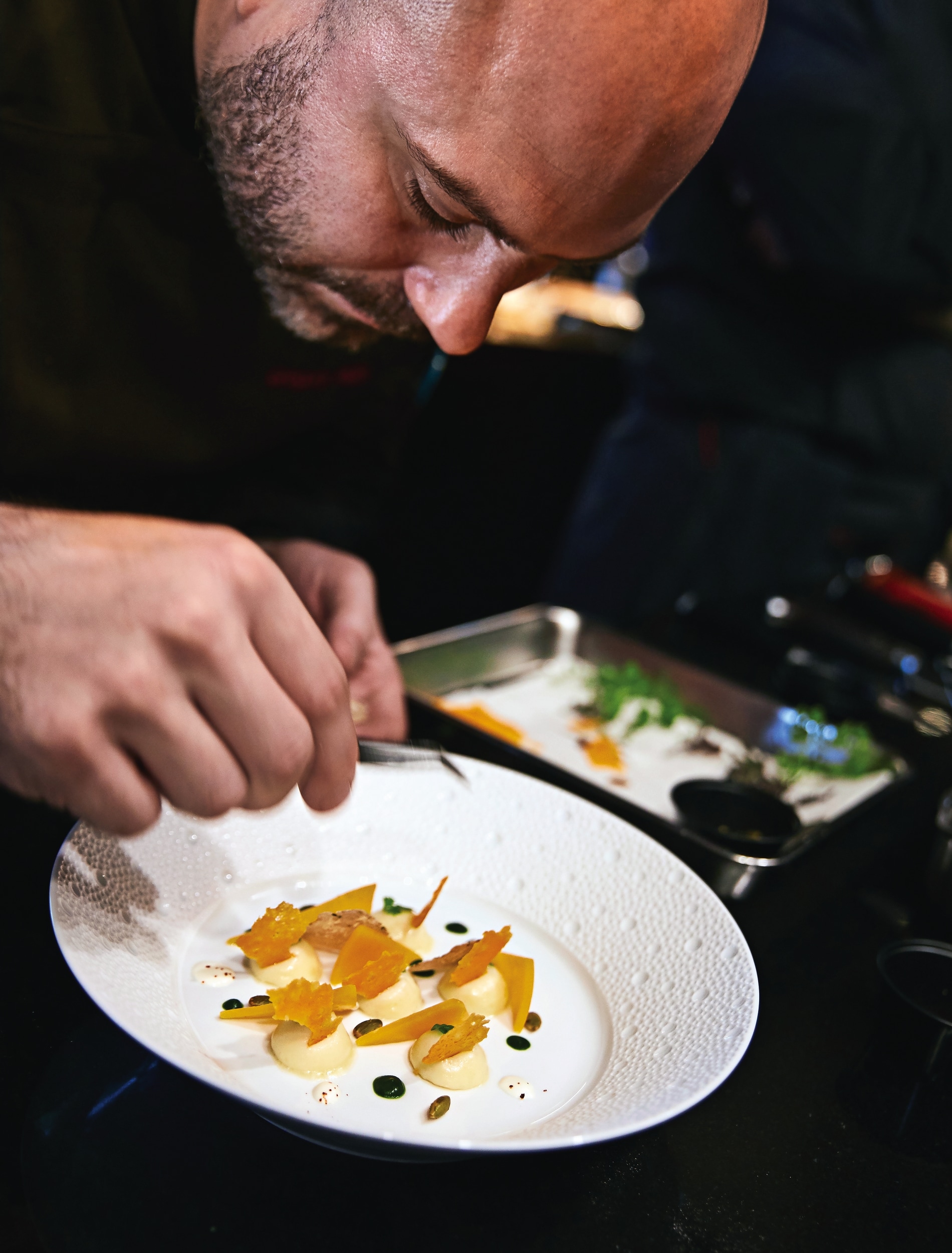 L'Atelier de Joël Robuchon executive chef Gregory Pugin plating La Truffe Blanche de Alba, Parisian gnocchi with white truffle, butternut squash, spring onion and Mimolette tuile
The schematics of the restaurants (each under separate ownership) are similar: a dramatic dining counter (or bar) as a centerpiece, with tables for larger parties set along the walls and/or sides. Both were designed by award-winning architect Pierre-Yves Rochon. But the color schemes vary. L'Atelier is black and red, with rosewood walls, granite flooring, Italian leather seating and two pieces of striking art on the far wall across from the entrance. It's energetic, dynamic and designed to make diners anticipate, even more than they already are, what's going to come out of the open kitchen that they are watching intently from their counter seats. Mood.

L'Atelier de Joël Robuchon's La Foret Noire, cherry Black Forest cake with chocolate cream and kirsch Chantilly
With about 1,000 square feet more space, Le Jardinier is white marble walls and floors that are illuminated by natural light, plenty of glass and contemporary floral accents, green chairs, a black bar and a spiral staircase leading up to L'Atelier. Again, two pieces of artwork lend a signature look, playing off the hues. But it differs from L'Atelier in that it has a patio filled with tropical plants and a chic bar instead of an intense working kitchen. Relax, this is vibe.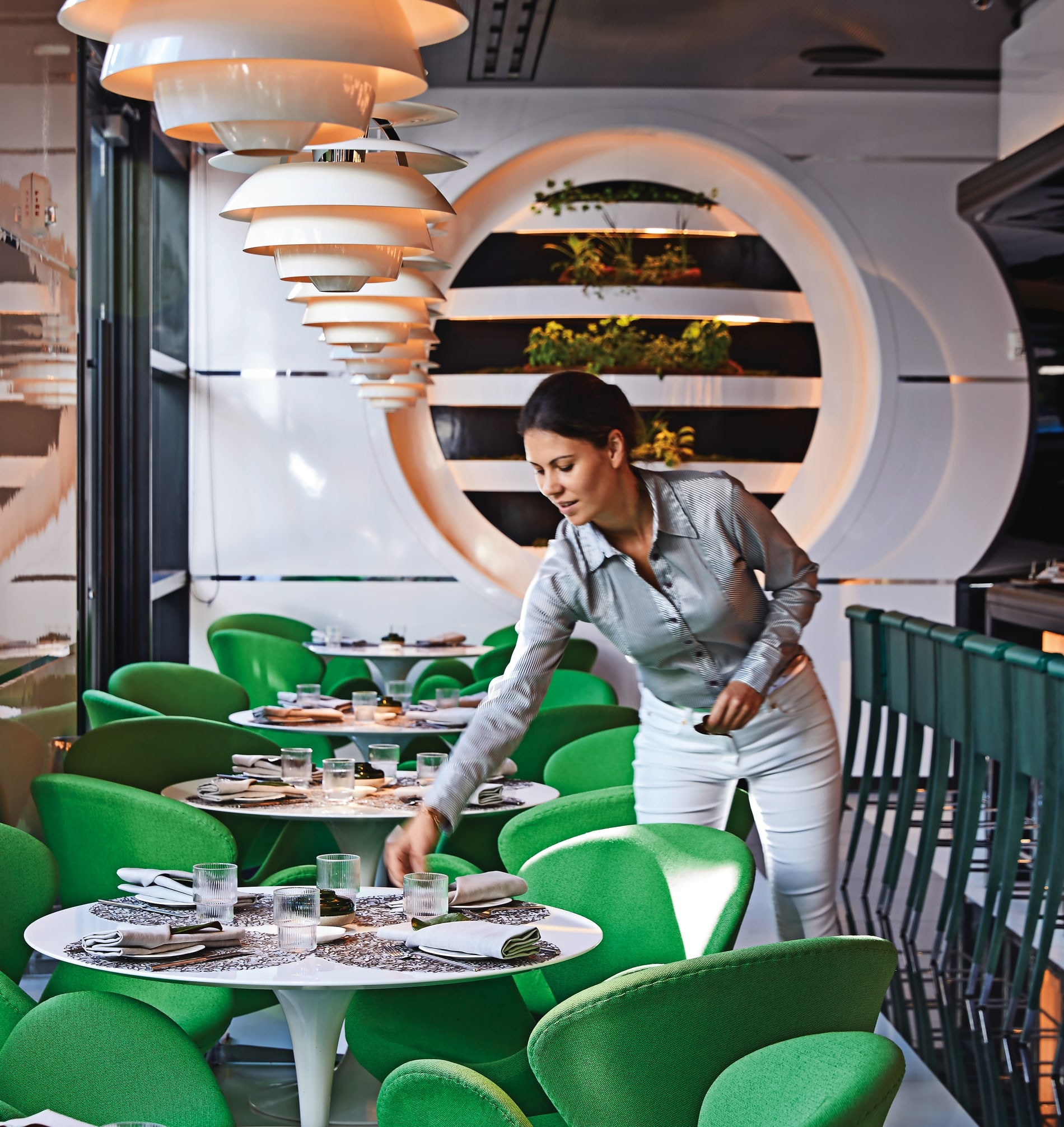 A server setting up for dinner at Le Jardinier
You get a lesson in differentiation from amuse-bouche onward. At L'Atelier, a miniature glass is filled with a foie gras cappuccino with Parmesan foam. At Le Jardinier, that glass contains pressed green juice. The baked-to-order bread baskets, too, created by master baker Tetsuya Yamaguchi, spell out mood and vibe: Upstairs, three different flaky, buttery, cheesy pastries per person appear hot from the oven. Downstairs, the pairs of rolls, made by local head baker Melissa Catra, are no less delicious, but they are gluten-free.
If you've never been to a L'Atelier de Joël Robuchon before, don't be shy about asking your server for the best way to navigate the menu. Do you want to go a la carte? A tasting or prix fixe menu? Add wine? It's up to you, and the ethos at L'Atelier is for you to feel good about your choices. At Le Jardinier, the menu is standard—appetizers followed by entrees—and, because it's already designed to be healthier, shaming has been removed completely.

Le Jardinier's delicata squash with red snapper and lemon verbena
However you decide, it's impossible to go wrong. If you order the Parisian gnocchi with butternut squash, abundant white truffle shavings and a tuile made from Mimolette cheese at L'Atelier, know that you're in for an experience that is like eating truffle-flavored clouds, but prettier. If you want the poached Maine lobster in anise hyssop broth with summer vegetables and purple artichoke, be prepared for a rush of ocean and sunshine on your palate. If you order the whimsical Le Burger, know that you'll be getting two miniature burgers topped with foie gras and tricolored peppers, a dish so rich you might want to call it a night. Even downstairs, where dishes like the smoked cranberry beans with octopus, hearts of palm and black quinoa or the Ora king salmon crusted with ginger in a mushroom bouillon seem lighter, they're so wonderfully prepared that you practically swell with satisfaction.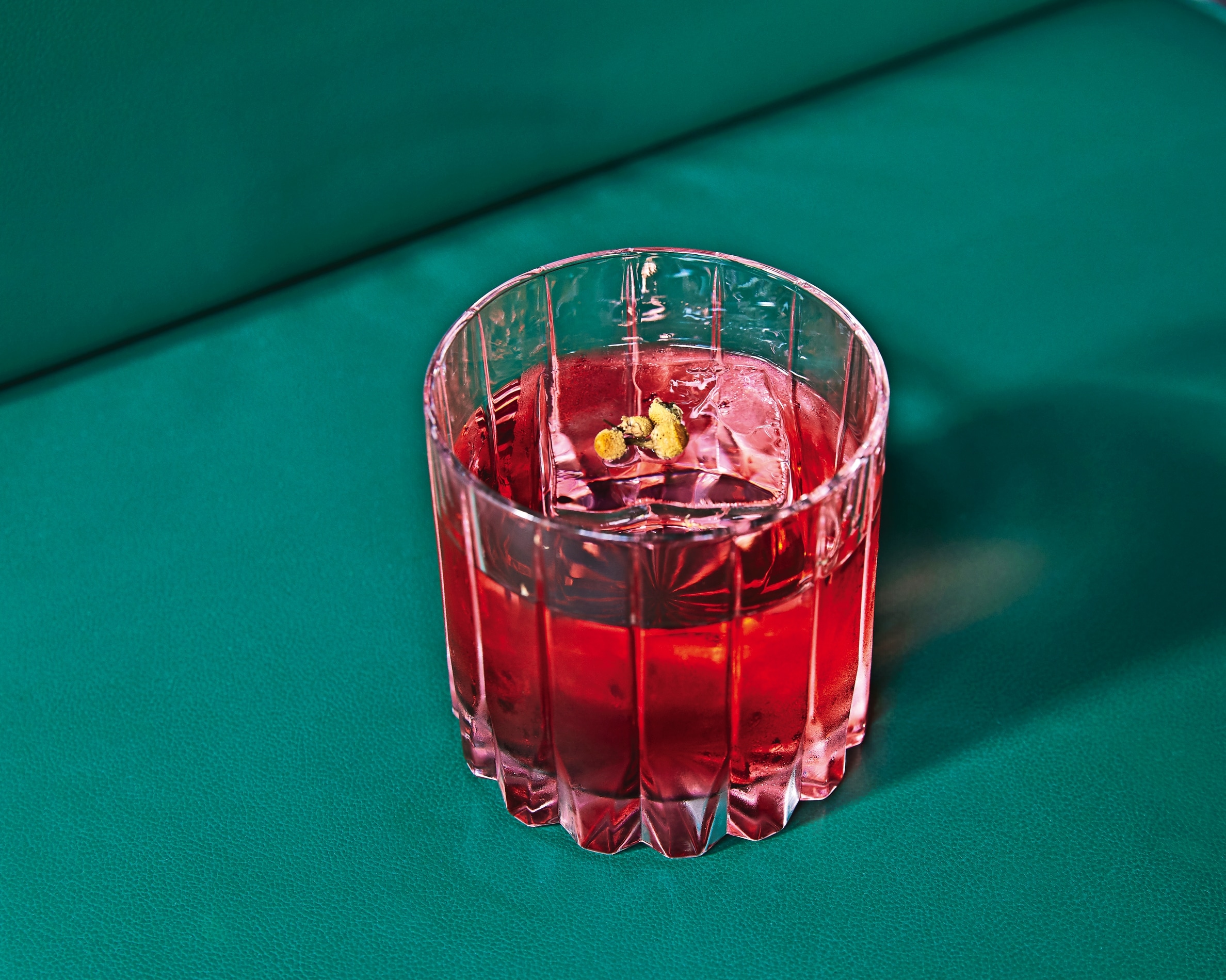 Le Jardinier's Wynwood Water cocktail, made with Old Grand-Dad Bonded bourbon, Old Overholt rye, Ardbeg Islay whiskey, fig, allspice and lemon
Just know that you can't go without devouring an imaginative dessert, but if you try to, you still get served marshmallows with a syringe of tequila at L'Atelier, and local pastry chef Yara Mage's wafer carrot cake at Le Jardinier. Mood and vibe. You can't leave the restaurants without them.
The spiral staircase that connects Le Jardinier (downstairs) to L'Atelier de Joël Robuchon (upstairs)
L'Atelier de Joël Robuchon & Le Jardinier
151 NE 41st St., Stes. 235 and 135, Miami,
305.402.9070; 305.402.9060
L'Atelier de Joël Robuchon
Dinner, Tues.-Sat., 6-10pm
Le Jardinier
Dinner, Sun., Tues.-Thur., 6-10pm; Fri.-Sat., 6-11pm
L'Atelier de Joël Robuchon: Tasting portions, $18-$38; appetizers, $19-$90; main courses, $36-$82; desserts, $18-$25; cocktails, $15; wines by the glass, $16-$36; wines by the bottle, $65-$8,560
Le Jardinier: Appetizers, $15-$26; main courses, $22-$80; desserts, $10-$12, cocktails, $15; wines by the glass, $12-$22; wines by the bottle, $55-$8,560