Wham! George Michael's Art Heads to Auction With Pickled Animals
About 200 works from collection will be sold for charity
George Michael's art collection, including a couple of Damien Hirst's pickled objets, is heading to the auction block next month.
A group of 200 works will be offered at Christie's, with prices ranging from 400 pounds to 1.5 million pounds ($1.9 million), the auction house said in a statement Friday. Proceeds will help keep the British singer's philanthropic work going. He died at age 53 in 2016.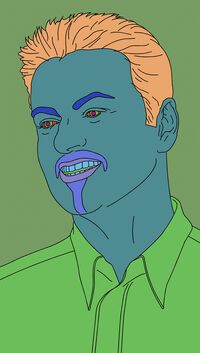 Michael, who surged to fame as part of Wham! in the early 1980s and forged a best-selling solo career, collected works by Young British Artists such as Hirst, Tracey Emin, Sarah Lucas, and Jake and Dinos Chapman.
The most expensive item is Hirst's glass case with a white dove pickled in formaldehyde. Titled "The Incomplete Truth," the 2006 work is estimated at 1 million pounds to 1.5 million pounds.
A smaller glass case by Hirst piece contains a bull's heart with dove wings and pierced by a dagger. Called "The Immaculate Heart-Sacred," the work is estimated at 120,000 pounds to 180,000 pounds. Michael bought it for 313,250 pounds at Sotheby's as part of Hirst's famous auction that took place as Lehman Brothers collapsed in 2008.
Read: Hirst Made a Fortune as Lehman Folded
Also for sale: a 2007 digital portrait of the singer by Michael Craig-Martin that changes color — the press release depicts Michael with a blue face, purple goatee and orange hair. Displayed on a mounted computer screen, it's estimated at 60,000 pounds to 80,000 pounds. And there's a blanket decorated with words "Drunk to the Bottom of my Soul" by Emin — it's valued at 180,000 pounds to 250,000 pounds.
The items will be previewed in New York this weekend and then travel to Los Angeles, Hong Kong and Shanghai, before ending up in London.
The works will be offered at an evening sale on March 14 in London as well as during the online auction taking place March 8-15.
(Adds preview details in second-last paragraph. A previous version of the story was corrected to delete a reference to the sale of postwar and contemporary art.)