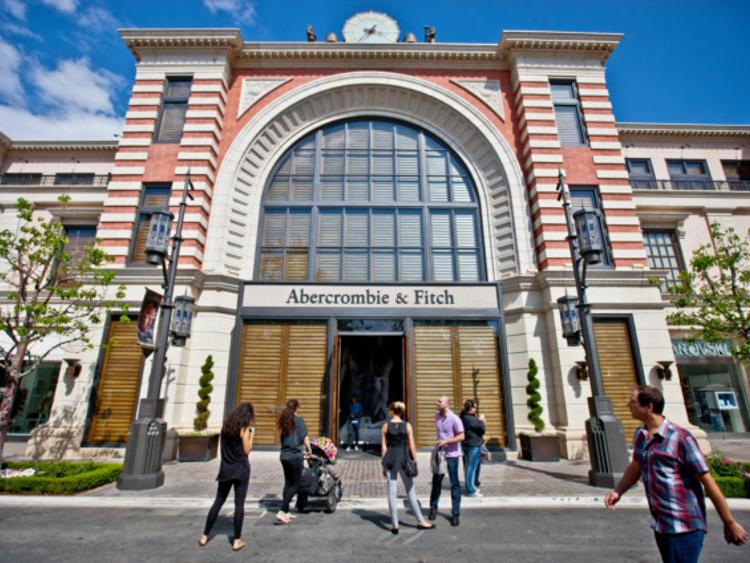 Tanned male models with abs of steel used to stand at the entrance to Abercrombie & Fitch's UK flagship store on London's Savile Row, placed there to entice teenage girls through its doors.
The marketing wheeze was part of the brand's official strategy, executed under the guidance of former chief executive Mike Jeffries, to get attractive young people through its doors and spending money. In a 2006 interview he said: "Good-looking people attract other good-looking people, and we want to market to cool, good-looking people. We don't market to anyone other than that."
He said the company went after the "attractive all-American kid with a great attitude and a lot of friends", adding: "A lot of people don't belong [in our clothes], and they can't belong. Are we exclusionary? Absolutely."
It took seven years for Jeffries' comments to "go viral" and provoke ire from customers and the media. In 2014, under intense scrutiny for the remarks and 11 consecutive quarters of negative sales, Jeffries stepped down after 22 years with the company, taking with him the over-sexualised brand image he had created.
Sales at the 126-year-old firm first began to slump during the 2008 financial crisis, when teenagers opted to shop at lower-priced fashion brands such as H&M and Forever 21.
Senior management made the decision to overhaul the retailer's merchandise and close underperforming stores, but its lacklustre performance continued — worsened by Jeffries' controversial statements a few years' later.
Florence Allday, fashion analyst at Euromonitor International, said that while Abercrombie got rid of its shirtless models in 2015, it was perhaps "too little, too late". She added: "Such obvious objectification and sexualisation, aimed at very young girls, was widely recognised as outdated and inappropriate several years beforehand."
Sales remained sluggish for three years after Jeffries' departure, and while revenue from its British division continues to dwindle, the US business, under new boss Fran Horowitz, appears to be rebounding, with five consecutive quarters of sales growth.
Abercrombie was founded in 1892 by David Abercrombie as a sporting goods chain, selling fishing and hunting equipment including shotguns. A portion of the business was then bought by Ezra Fitch, though both left the company in the early 1900s. Business peaked in the late 30s when its sports apparel was worn by celebrities such as Ernest Hemingway, before it was transformed in 1992 under Jeffries who made it into the preppy clothes retailer we know today.
When A&F first entered the European market a decade ago with its Savile Row branch, a queue of customers would snake around the street in order to experience the nightclub-like atmosphere of the store. In the dimly-lit space, models were stationed on the balcony to dance to the thumping music while sales assistants walked around spritzing the retailer's signature Fierce cologne.
The unique atmosphere kept shoppers wanting, and A&F's international empire grew to more than 1,000 stores, with branches in Europe, Asia and the Middle East.
The company also launched offshoot brands; some of which proved successful, others which didn't. Underwear retailer Gilly Hicks, marketed as the "cheeky cousin" of Abercrombie & Fitch, closed in 2013 after five years (although it relaunched online in 2017), while Ruehl No 925, which sold upscale clothing for young adults, closed in 2010 after six years.
Hollister, which sells similar but more affordable clothing than its parent company, and Abercrombie & Fitch Kids, aimed at seven to 14-year-olds, have been more successful, although both have attracted their fare share of criticism.
In 2012, when A&F announced plans to open a childrenswear arm next to its flagship store on Savile Row, the heartland of English bespoke tailoring, business owners on the street protested.
Hollister, A&F's biggest brand, has also been at the centre of a number of controversies including, in 2010, prohibiting a staff member from wearing a Remembrance poppy because it was not considered part of the approved uniform. The retailer was subsequently lambasted by the British press.
But in many ways Hollister has been Abercrombie & Fitch's saving grace, becoming, over the past few years, its key revenue contributor.
In November, A&F posted quarterly sales of $346 million (Dh1.2 billion), compared with Hollister's $515.1 million.
Horowitz, who initiated a turnaround plan for the business when she assumed her role in 2017, said "improved performance" would allow it to close 20 fewer US stores than previously planned.
Despite European sales lagging behind those in the US, A&F said it had no plans to exit the market. In fact, the retailer is expanding its shopping-centre presence and this September opened a 515 square metre store at the Trafford Centre in Manchester, one of a handful of prototype stores being opened in Europe to trial the brand's new direction.
"We are not the Abercrombie & Fitch that you once knew," Horowitz said at a company investor day in April. Stores are no longer deprived of natural light from boarded-up windows, and the music is set at a comfortable level. The shirtless models are long gone, as are the provocative ad campaigns.
An A&F spokesman said there remained a "few outdated perceptions of the company" but that it had worked hard over the past four years, under new leadership, "to evolve and ensure that inclusivity is integrated into all that we do".
Retail expert Clare Bailey said Horowitz had made the right decision to rework the brand's proposition to match what today's consumers want. "Abercrombie has a strong personality and identity, and in the current retail landscape this will work in the company's favour".