Meet Miami's 2019 Women Of Style
Our 2019 Women of Style prove that when it comes to wardrobe matters, fearless is the only way to go.
Dress by Peter Dundas. Earrings by Oscar de la Renta. Shoes by Manolo Blahnik. Hair and makeup by Cesar Ferrette.
COURSE OF ACTION
Savvy planning ensures Jennifer Montoya is always the belle of the ball.
An avid philanthropist and, consequently, a regular fixture at some of the city's most prominent galas, Jennifer Montoya is often lauded for her on-point fashion at these events. It's not by accident. In fact, she refreshingly reveals it takes significant forethought on her part. "I plan in advance and think of all the details," says the mother of two. "I don't feel put together if I just throw something on. I think about everything: the makeup, the handbag, the shoes, the sunglasses and the accessories. I love to take risks, but it involves a lot of thought to have a curated and edited style." It also takes savvy and intuition, attributes Montoya clearly possesses: "I'm never in one designer head to toe. Tailoring is everything when it comes to pulling an outfit together. And keep the party limited to one area—either top or bottom, never both." The woman also knows her designers and recites them with the cadence of a cadet in training: "Timeless favorites are Oscar de la Renta, Dior, Fendi, Valentino and Delpozo. For chic evening looks, there's Attico, Saint Laurent, Andrew Gn and Safiyaa. And for day, Adidas by Stella McCartney, Nanushka, Ganni, Chloé, Roksanda, Gucci and Veronica Beard… you have to know your brands, your personal fit, and stay focused." Her fashion philosophy is just as precise: "Be confident, be comfortable and go big or go home," she says. "Don't be afraid to be the best-dressed guest in the room."
---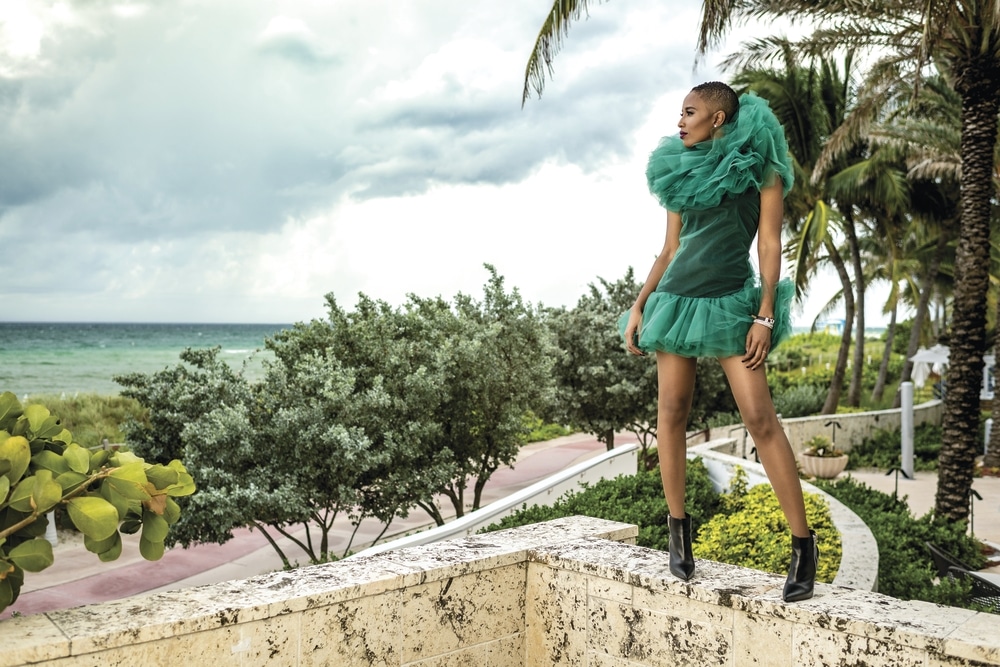 Dress by Kaimin. Booties by Saint Laurent. Hair by Kelvin Dotson. Makeup by Jainel Cunningham.
COOL, CALM & COLLECTED
Astute thinking enables Nathalie Cadet-James to embrace fashion on her terms.
Event planner Nathalie Cadet-James (founder of Luxe Fête) is rather in touch with her feelings when it comes to style. "I am most fabulous when I have control over my fears, which gives me control over my life, and that makes me look good in any outfit," she says. "Confidence and grace come from within. What you are wearing just amplifies it." As a business owner with a demanding travel schedule, wife and mother to two young girls, Cadet-James makes time for fashion with the same dedication she devotes to all other aspects of her life. Her secret is being pragmatic about it. "Day to day, I am pretty casual unless I have work meetings. It's not uncommon to find me in black lace-up boots that I have convinced myself work with every outfit," she says. "When night falls, it's a different story." Evenings out call for modern glamour, often provided by favorite designers such as Saint Laurent, Of Whonder, Stella Jean, Balmain and Delpozo. And as far as jewelry goes, Cadet-James is clear: "Edit, edit, edit. Simplicity is the truest form of elegance." As for her fashion philosophy? It varies. "Some days I am classic; other days I'm daring; other days I'm demure," she says. "What is consistent is that I am me."
---
Dress by Paco Rabanne. Shoes by Saint Laurent. Hair and makeup by Ermine Khacheryan.
IN THE GLOW
Entrepreneur Farah Abassi often opts for classic style, but that doesn't mean she doesn't love to shine.
As the founder of Aroma360, a company that creates custom scents for businesses and private homes, Farah Abassi understands all the nuances of creating mood through fragrance. She's also well-versed in the importance of making a memorable entrance whether she's attending a client meeting or a party. The entrepreneur, who splits her time between Miami and New York, describes her style as effortlessly chic. "I stay away from anything that's too fussy or trendy," she says. "I love classic, timeless pieces with statement accessories. I feel most fabulous in a little black dress, black pumps and a fresh blowout." Of course, there are some exceptions. When the occasion calls for it, a metallic gold dress that catches the light in all the right ways is not out of the question, especially if the fit is precise. "I always invest in a good tailor," she says. "I have a small frame, so it's extremely important that my clothes accentuate my figure." In terms of designers, Abassi is clear about her favorites and why: Balmain ("iconic and bold"), Saint Laurent ("simple and sexy"), McQueen ("dramatic and edgy") and Givenchy ("timeless, elegant and feminine"). Asked whether she adheres to any style mantras, she quickly cites two: "Marilyn Monroe once said, 'Give a girl the right shoes and she can conquer the world.' And the other one I like is 'Women who wear black lead colorful lives.'" Both seem to work for her quite well.
---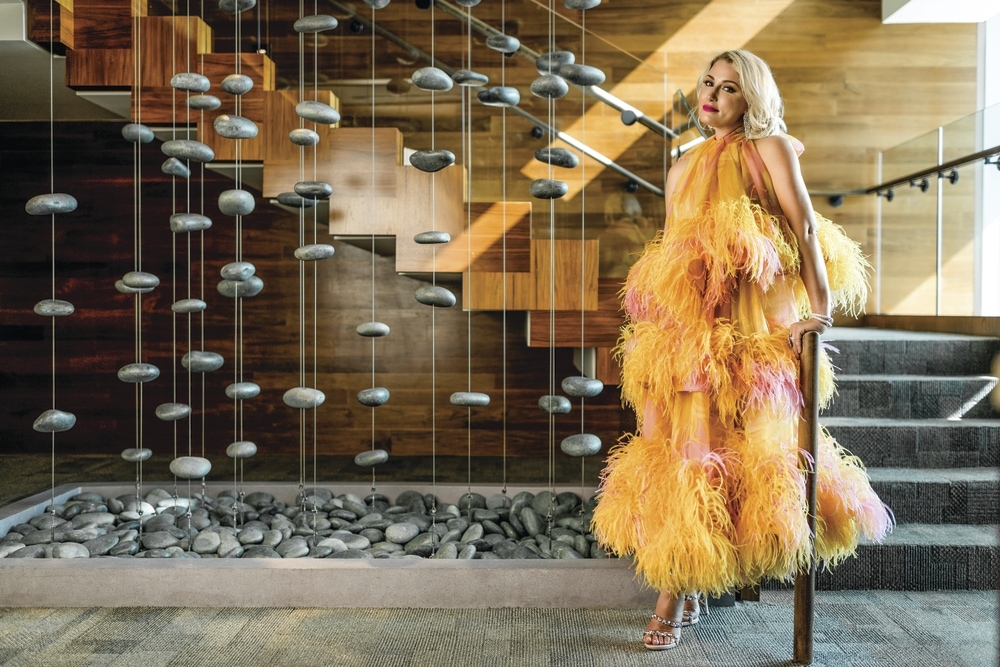 Dress by Marc Jacobs. Jewelry by King Jewelers. Shoes by René Caovilla. Hair by Rebecca Ketchum. Makeup by Cynthia Martens.
ALL OR NOTHING
As Jenni Coba sees it, glamour is best in large doses.
A proud native Miamian, devoted philanthropist and mother of two (with another on the way), Jenni Coba doesn't think "less is more" is ever the way to go. The word demure simply isn't in her vocabulary—at least not when it comes to style. "I don't believe there is such a thing as being overdressed," she says. "I am most comfortable in a long, flowing dress and I will wear that anywhere." For proof, one just has to look at her Instagram: colorful feathers, metallic fringes, movie-star caftans and hats fit for the Royal Ascot races are just the tip of the iceberg. "Fashion has been my true love from a very young age and I am a collector of it," says Coba. "I am lucky to be able to play dress-up with some of the most amazing designers. I've been having a real love affair with Gucci for a few years now, but my other favorites include Fendi, Julia Clancey for turbans and caftans, Giambattista Valli for the absolute over-the-top girliness, Viktor & Rolf, whose spring 2019 couture show I am still obsessed with, and Chanel, oh, Chanel, just give me everything Chanel… always." On her bucket list? Flying to Beirut to have a custom fitting with Krikor Jabotian, the Lebanon-based designer known for his opulent fabrics. "My biggest inspiration doesn't come from one icon per se. I love the glamour of Truman Capote's Swans," she adds. "I can look at photos of Babe Paley, Gloria Guinness, Marella Agnelli and C.Z. Guest all day, every day. Can someone please throw a modern-day Black and White Ball?"